Research
SMRI supports a collaborative research program aimed at industry priorities. Membership and individuals within the industry are polled approximately every five years to help determine the allocation of research funding. The research program is guided by the Volunteer Research Committee, managed by the Research Coordinator (staff), and Chaired by the SMRI Vice President. The SMRI Leadership Committee reviews proposed research projects by the Research Committee prior to the vote for funding by the membership.
Research proposal can be submitted as a response to a Request for Proposal (RFP) or as an Unsolicited Proposal. SMRI members and non-members are able to submit research proposal for funding consideration. Proposals must be submitted to the Research Coordinator, Tim Bauer ([email protected]), at least eight weeks prior to one of the two annual SMRI conferences for funding consideration. This allows the committee time to review proposals and discuss any questions with the submitters. Submitters are encouraged to team with other industry experts and professionals where it will be beneficial.
SMRI research projects are funded from membership dues and are comprised of both short-term and long-term objectives. Projects can be proposed in phases to allow scope adjustments and funding adjustments. SMRI does not perform any research, but funds projects via contracted services.    
Request for Proposal (RFP)
Research proposals in response to RFPs must comply with the details and deadline in the RFPs, which will be posted online and e-mailed to individuals in our database.  SMRI's normal terms and conditions for research contracts were updated 3 January 2023, (click here for terms and conditions). 
The following are recent and ongoing SMRI research programs for which we are still accepting proposals:
1. "Cavern Sealing & Abandonment Research Program" (CS&ARP) There has been long-term interest in subject by the membership, and particular interest in abandonment of caverns deeper than 1,000 meters. SMRI is currently looking to for an operator of a deep cavern planned for abandonment to partner with for research projects including field testing.

2. "High Frequency Cycling of Salt Storage Caverns" research program (HFCSSC) subject interest, with recently completed projects, the Research Committee is still interested in more proposals. 
3. "Safe Dome Edge Caverns" 
4. "Renewable Energy Storage in Salt Caverns"SMRI is still be interested in specific proposals regarding Renewable Energy Storage. SMRI's objective is to finance or co-finance research to promote the development of high-performance salt caverns for the storage of renewable energies and to improve the competitiveness of salt cavern technologies in the field of renewable energy management.
-  Examples for applications of salt cavern technology to be used for large scale renewable energy storage are:
                   • Compressed air energy storage (CAES), both diabatic and adiabatic,
                   • Hydrogen storage,
                   • Pumped hydro storage. 
Shortly before SMRI's spring meeting, an unsolicited proposal (U2022-1: Hydrogen Storage in Salt Caverns, Stage 1: Current Status and Potential Future Topics for Research) was submitted on the use of caverns for renewable energy storage. The rationale for submitting the proposal was outlined by the project team as follows.
Global energy policy aims to decarbonize energy sources, particularly by increasing the use of renewable energy. Hydrogen is the most promising option to meet large-scale storage needs. Several national and international funding programs have initiated research projects to realize state-of-the-art hydrogen storage in salt caverns. Several research projects have been carried out within SMRI in the past, but further research needs have been identified. SMRI (members, research committee, manage­ment) has expressed its strong interest in continuing and intensifying research in this field.
Unsolicited Proposal
Unsolicited research proposals are accepted by the committee for review and potential funding. SMRI funds research projects within the solution mining and cavern storage industries usually within the following topics: salt exploration techniques, geophysics, drilling, cavern aspects of energy storage related to renewable sources, mechanical integrity testing of wells and caverns, casing corrosion, subsidence and sinkholes, dissolution theory and cavern development, cavern storage and utilization, and cavern sealing and abandonment (CS&A). Contact the Research Coordinator with questions regarding the submission of Unsolicited Proposals.
New Research Ideas
During the Spring 2022 Research Committee Meeting in Rapid City, a Poll was taken by members of SMRI to prioritize new research and to decide if any research performed during the last 15 years should or must be updated; the results are listed in the graphic below.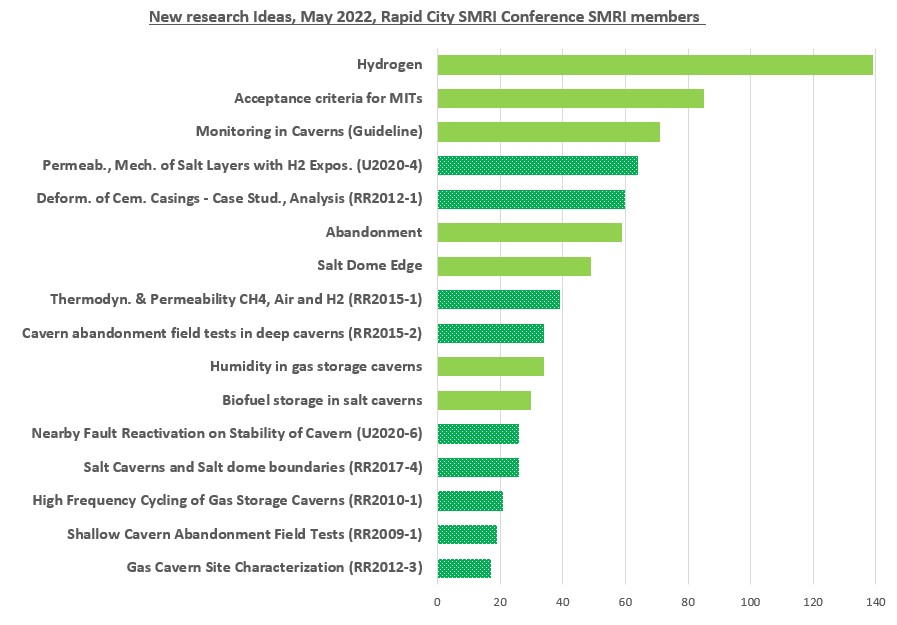 All members of SMRI, institutes and/or individuals, especially the member of the Research Committee, are actively invited and encouraged to begin new research, either by drafting an RFP or by submitting an Unsolicited Proposal. Currently, the following topics are considered of utmost interest:
Monitoring in Caverns, Guideline (incl. Casing Deformation),
Salt Dome Edge, Fault Reactivation,
Acceptance criteria for Mechanical Integrity Testing (MIT).
Written or verbal Research Ideas and Suggestions can be submitted by anyone to a member of the Research Committee at any time. These suggestions are subject to vote for contract approval by the SMRI Membership at a business meeting prior to each SMRI Conference, typically held the Saturday prior to the Conference. Proposals, Including Responses to RFPs and Unsolicited Research Proposals, must comply with details, terms, and conditions policy as listed below