Solution Mining Research Institute

Solution Mining Research Institute, Inc. (SMRI) is a world-wide, non-profit, member-driven organization that provides specialized education, technical reference information, and current issue research to those in the solution mining and storage cavern industries. SMRI members include salt, potash and trona based companies, support organizations, operators, researchers, suppliers, consultants, educators, government regulators, students, and others with interest in solution mining and cavern utilization.

SMRI has been involved in research to support the industry since the 1960s and continues to actively research subjects of current and future interest to our members and the cavern industry. Historical research funding has produced software that is used by industry professionals, best practices for cavern design and operations, and a catalogue of the world's salt deposits and storage caverns. Current research activity includes cataloging and comparing mineral characteristics, the abandonment of deep underground storage caverns, and comparing the storage of hydrogen versus natural gas in salt caverns.

 

 

The cavern storage industry is seeing rapid changes with the green energy evolution and the potential for storing hydrogen in caverns. SMRI has over 50 years of history in natural gas and petroleum storage and is using that knowledge to assist the industry with hydrogen storage. Current and future research projects are and will be looking into the needs of the industry to best prepare and adapt for the potential switch to hydrogen.

SMRI hosts two annual conferences to allow industry networking, project and research updates, and education regarding new technologies. Each conference features a technical class, includes about 20 technical paper presentations, and provides field trip opportunities to see various mines, brine/salt production and storage facilities, or historic sites/features to learn how they have been operated and managed. SMRI continues to support the training and development of future industry experts and managers.

The organization maintains a library of papers and research reports funded by the Institute. The library is free for members to access and non-members can purchase copies of technical papers and research reports.
What is Solution Mining?
Solution mining is the process of extracting underground, water-soluble minerals (salt, potash, trona, etc.), through one or more drilled wells, by dissolving the minerals with water. As the water circulates, it dissolves the mineral and becomes saturated, the brine is forced up a separate pipe string to the surface. The brine can be used to produce minerals, sent directly to a chemical process, or disposed of during storage cavern creation.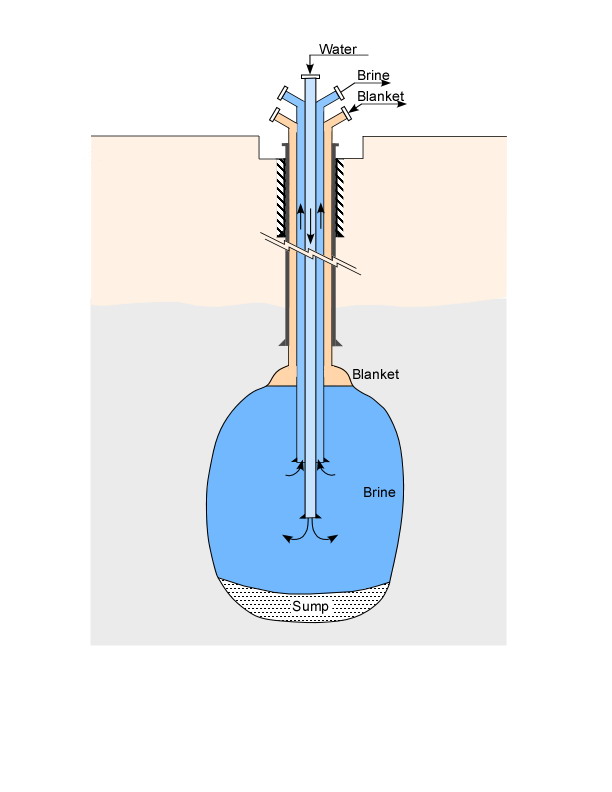 Benefits of Membership
Access to the over 3,500 articles in SMRI's library. These articles include all SMRI conference papers back to 1971, all SMRI funded Research Reports, and all World Salt Symposium papers. Non-members can purchase copies of papers and Research Reports.
Software licenses for SALGAS, SALT_SUBISD, and SMRI Toolbox software programs. Non-members can purchase the rights to the various programs.

SALGAS simulates the dissolution of sodium chloride salt by water.
SALT_SUBSID is a subsidence model used to evaluate surface subsidence over underground openings in salt, potash, and trona.
SMRI Toolbox makes several tools available to hydrocarbon storage operators and brine producers.

Member registration rates for the technical conferences and classes.
Special discounted registration rates for Class R members for the conference technical class.
Participation in the Business Meeting and voting rights to determine the funding of research projects. Members are also eligible to apply for the Research and Leadership Committees.
Cavern Storage
After solution mining, the completed underground caverns are commonly used for the storage of crude oil and natural gas, as well as other hydrocarbons, chemicals, hydrogen, compressed air, and waste. Gas caverns, for example, provide storage capacity to deliver maximum output to meet the high demand for natural gas during the winter. Salt caverns provide an ideal storage medium for hydrocarbons and hydrogen, as well as being environmentally friendly. The properties of salt, including viscosity, low permeability, and porosity, can provide for a safe containment of the storage media.